Part 1: Jesus prays, and the Twelve Disciples are chosen
We begin in Mark 3:13-19; Luke 6:12-16, and Jesus journeyed from Capernaum around the shore of the Sea of Galilee to "The Mountain," about 5 miles.
It was expedient that the Lord Jesus appoint helpers immediately (as He was in prayer for many hours overnight), twelve of them that is, to which, they would be commissioned to heal diseases and cast out devils.
They were known as "Apostles," ones whom are sent out. He would continue to train them further until His Appointed Time had come (for His death and Resurrection of course), and then they would need to continue the work. This was all similar to the Twelve Tribes that formed the basis of the People of God.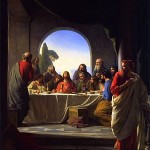 The ones whom were called were Simon Peter (or Cephas), Andrew the brother of Peter, James the son of Zebedee, John the brother of James, Philip, Bartholomew (or Nathanael), Thomas the Twin (Didymus), Matthew (or Levi), James the son of Alphaeus, Thaddeus (or Lebbaeus, or Judas the son of James), Simon the Zealot (or the Patriot, or the Canaanite, or the Cananaean), and Judas Iscariot (or the traitor, the betrayer, or the one who betrays).
What can we learn from this?
When the Lord calls us to do something, we should do it to our best ability, with excellence, as we are specially called from Him directly! No matter what the Lord calls us to do, we must do it best as we can, which means we should be continually attending to His Calling for us! Just as a doctor is on call all the time, this is similar to our calling from the Lord that we should be ready anytime for apt in ministry.