Jesus is continuing His Ministry, as He talks with Peter about who He is… We are reading in Mark 8:27-30; Matthew 16:13-20; Luke 9:18-21. Jesus is journeying from Bethsaida to Caesarea Philippi.
Jesus and the Disciples were traveling, where Jesus asked them who do men say He is. They said that people think He is John the Baptist, Elias (Elijah), or one of the other Prophets. Jesus then asked them who they think He is. Peter answered quickly "Thou art the Christ, the Son of the living God." Jesus told the group, after being delighted at their answer, that they would be the foundation of the building of His Church, to which, no power would be able to conquer it.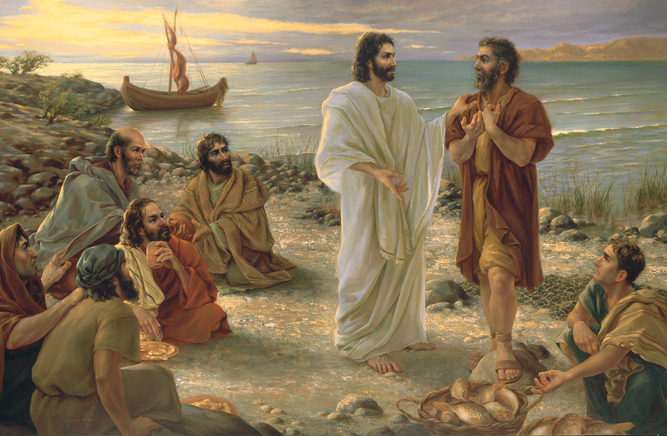 Through preaching the Gospel, they would open the Kingdom to all who wanted to enter in. They would even carry the authority of Jesus with them so that things done on Earth in His Name would be confirmed in Heaven. However, this was still in the future. They needed to continue to help Him currently in the Ministry until the appointed time came.
What does Jesus teach us here? We must declare His Name to people, and truly back up our belief upon Him. Just as the Disciples admitted (notably Peter) that He is Christ, the Son of the Living God, they were commissioned to be the foundation of the Church where they could preach about the Lord, heal, deliver, etc. We are expected upon similar principles to express our belief in the Lord, preach about Him, etc.
Jesus foretells His Death and Resurrection
We are now reading in Mark 8:31-37; Matthew 16:21-26; Luke 9:22-25, where Jesus is about to foretell His Death and Resurrection.
Jesus explains to His Disciples that in order to fulfill His Ministry as the Messiah, He had to suffer, die, and rise again. Peter objected to Him saying it shall not be, to which, Jesus rebuked him for incorrect thinking. Peter did not understand and was not thinking according to the purposes of God, which Jesus was to do.
The suggestion that Jesus should not attend to the cross was just a temptation from satan that influenced the mind of Peter, which is why Jesus responded "Get thee behind me, satan…" It was an attempt to persuade Him to gain His Kingdom a different way other than death, to which, was not possible based upon His Plan. If He had not come to die, and be Resurrected, He would have failed in the very thing He came to do.
Just after telling His Disciples of the coming suffering and death, Jesus told them they had better be prepared to be treated similarly. The Disciples are those who have given their lives to Christ and therefore they shall be obedient to their Master even unto persecution or death.
They have no longer rule over their own lives, but will have to deny themselves of personal desires and gain to please Jesus. In sacrificing the life that puts their own wills first, they will find true, satisfying life in Christ. For those that live for selfish gain for things wanted in the present (vanity), they will just lose the only life of lasting value, which is Eternal Life.
What can we learn from Jesus here? We must not expect great and high things of the world, or give ourselves to gain or wealth. We should instead suffer ourselves of such things, and rather seek after spiritual things that are more attributable to Eternal Life. If we continue to keep ourselves from selfish gain; sacrificing our own will, we will be able to tap into His Will for our lives and do things that bring Eternal Life's rewards.
The coming of the son of man in His Kingdom
We turn now to Mark 8:38-9:1; Matthew 16:27-28; Luke 9:25-27, where Jesus is about to make an eschatological declaration after foretelling His Death and Resurrection. This leads to a Prophecy: Some there present will not die until they see the Son of Man Coming in His Kingdom; see the Kingdom of God come with power.
Jesus promised His Disciples that those who accompanied Him in His Ministry would see the Triumph of the Lord's Glorious Kingdom. Many standing there would not taste death until they see the Kingdom of God, even if just a glimpse. With that, the Lord's promise would be fulfilled for a few much sooner than expected.
What can we learn here? We can all look forward to His Coming Kingdom, for it is promised that He will soon come in all His Glory to bring the Harvest. It is coming, and we must continually prepare for it whilst preparing others as well for it.