Jesus is finishing ministry in Galilee, but first stops at Nazareth. This is not permanent, but due to the extent of ministry in the Galilean region, He is targeted from the powers that be. Most of His Ministry has been more public, but He is preparing for private ministry. Some adversity is encountered before these things become so.
Jesus' Final Visit to Nazareth
Jesus makes a 7 hour journey to Nazareth, as we are reading in Mark 6:1-6; Matthew 13:54-58. Jesus comes again to Nazareth and teaching in the Synagogue. Their prejudice hinders Jesus from doing a mighty work, although He heals a few sick people; Jesus marvels at their unbelief.
The people there where Jesus came next in Nazareth were surprised that such a person they had known only as a carpenter could preach so well; therefore, they refused to accept His evidence and admit that this One was indeed God.
They refused belief in Him, and therefore, Jesus would not use His Miracles to help them believe; however, out of compassion, He privately healed some sick people.
What can we learn from this?
Some people may despise us, because they know who our old selves are, but we claim to be otherwise, which causes them to disbelieve. Unbelief is a great hindrance to our work, and therefore, we may not be accepted in our original area, but in a new area, we may be widely accepted. Influence comes in many shapes and sizes, and we must depend upon Christ to bring the insight to lead us where to go to be able to have ability for influencing.
Third Tour of Galilee & Sending the Twelve forth
Jesus is taking a painstaking journey now.. From Nazareth to villages (small towns) around Nazareth. Around cities and villages of Galilee (Galilee about 10 hours North to South and 6 or 7 hours East to West). No doubt ending up at Capernaum where His Disciples met Him after their preaching tour. We are reading in Mark 6:6-13; Matthew 9:35-38; 11:1; Luke 9:1-6.
A third tour of Galilee (the last) with the Twelve Disciples: "teaching… preaching… and healing…" Jesus' compassion for the crowds is seen. They are as "sheep without a Shepherd," or a "harvest to be gathered." Jesus gives the Twelve Disciples power over unclean spirits and power to heal the sick.
He sends them to proclaim the coming of the Kingdom. He gives them careful instructions about their ministry, and warnings. Jesus goes from city to city, alone.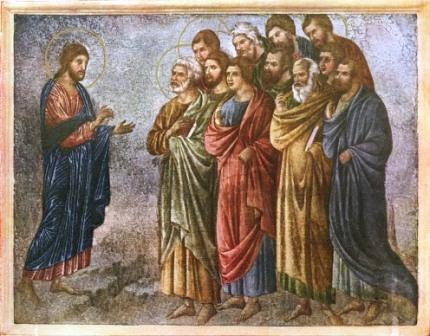 Jesus sent out His Twelve Disciples (Apostles) to preach the Gospel of the Kingdom of the Messiah, to which, the miraculous powers of the Messiah were given to them also that the can use, so that the knowledge of His Love and Mercy might spread quicker through the land.
Jesus could not spread the Gospel worldwide in His Lifetime; therefore, the Apostles had to concentrate on Israel. They were to take with them the bare necessities for daily needs, so they are not hindered in travel. They were not to waste time preaching to people who were refusing to listen. Go to areas where the Gospel hasn't been heard yet.
What can we learn from this?
Go and do as the Lord has called you to do without apprehensions of needs and other things, for He has provided all of the needs that we have. In addition, don't bother with people who only ignore you, but go to people who will receive you and be willing to listen.
Herod has fear for murdering John the Baptist
Herod Antipas, a son of Herod the Great, is fearing for his life due to his murdering of John the Baptist. News of Jesus' Ministry finally reaches the King, who supposes superstitiously that it is John the Baptist resurrected. Then the gruesome story of Herod's murder of John is told. We are reading now in Mark 6:14-29; Matthew 14:1-12; Luke 9:7-9.
John the Baptist has been executed, and when Herod heard about Jesus' Miracles, he feared that Jesus was really John that had come back to life and that supernatural powers were working within Him. Remembering back when John went to prison, this was because John accused Herod of adultery in marrying Herodias, the wife of Herod's brother Philip.
Herod respected and feared John, as He knew that John was godly and that such accusations were true. However, no discussion with John could persuade Herod to conquer his passions and give up Herodias.
John's place of imprisonment was a dungeon inside Herod's palace, which gave Herod the opportunity to speak to John often and made it easier for Herodias to get rid of him. She hated John for interfering with them, and she was quick to act when she saw the chance for him to be executed.
What can we learn from this?
Accusations do not change who a person is, nor does it change the situation. John was a good man, and people believed good things about him. Even though he was imprisoned for accusing Herod for adultery, he was still a good man whom Jesus honored.
Preparing for the next period
With Christ's blessing, a little goes a long way. The next period of Jesus' Life is a bit more secluded, as He becomes a tutor for the disciples. One of His most amazing miracles is upcoming that we will explore. Stay tuned into this blog for more marvelous information about our Lord Jesus Christ.